Alexei Kudin went out to peacefully protest, but could not stand it when they suddenly began to beat people

Source: Tribuna.com

Alexei Kudin is a Belarusian athlete performing in Muay Thai, kickboxing and mixed martial arts in the heavyweight division. Honored Master of Sports of the Republic of Belarus (2012). World amateur Thai boxing champion (2006, 2007, 2008, 2011, 2014), world amateur kickboxing champion (2007, 2009), world professional kickboxing champion (2007, WBKF version).

On August 9, 2020, Alexei Kudin, like many residents of Belarus, came to the central square of his city to express his civic position on the results of the past elections, which were rigged. At first everything was calm: the protesters stood peacefully in front of the police officers. Then cars with riot police arrived and the security forces began to attack the protesters. Bombs with gas flew towards the people, pops from flash-noise grenades were heard. The protesters began to scatter in panic, Alexei at that moment was calmly walking towards the house with his friend. According to Alexei, he came home with a clear understanding that this is impossible and that something needs to be changed. He decided that the next day he would go again to express his position against falsification and violence.

In the evening, Alexei came to the square of his city and met friends and acquaintances near the fountain. They began to discuss yesterday's events and in parallel watched what was happening. At a certain point, the soldiers began to force people out of the square and beat them. According to Alexei, he asked himself: "why should I — a person who brought so many medals of the highest standard — run away from some kind of "guardians" with truncheons?".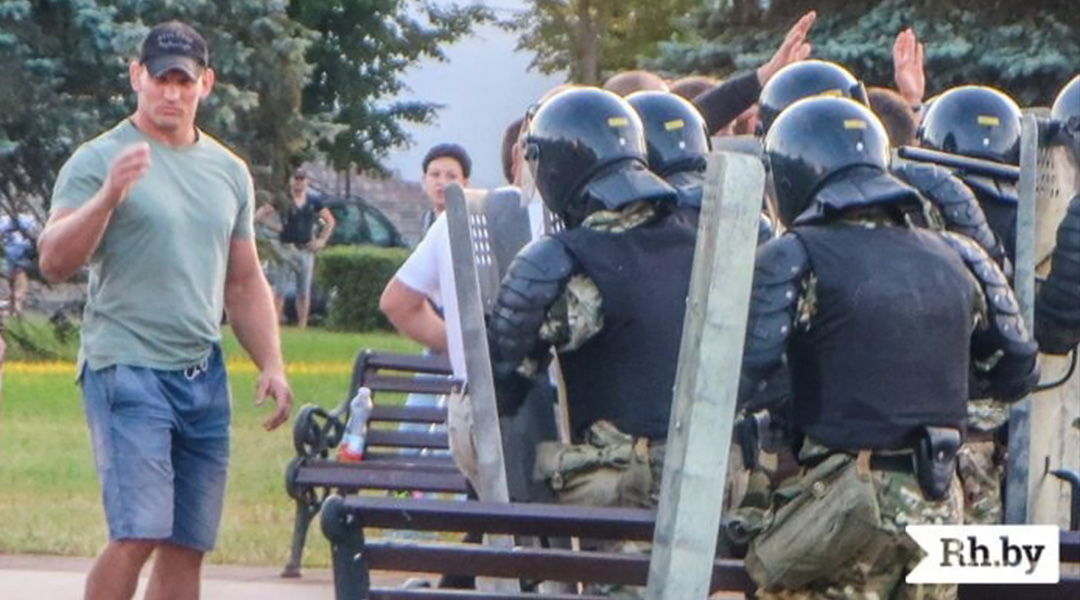 Also, the Belarusian athlete recalls: "suddenly a line of soldiers appeared in front of me at a distance of a couple of meters. They closed their shields and were on alert. The people next to me raised their hands and said that they were just standing peacefully. I took a step towards the soldiers and also raised my hands to show that I had nothing. At the same moment, a soldier appeared behind the line and sprayed a stream of gas from a canister in my direction. I managed to deviate, turned sideways and wanted to move away, but felt the blow of the club in the head and neck area." Alexei tore the shield away from one of the soldiers and hit the slap in the face with the back of his hand. After that, a scuffle began, during which the fighter received many blows from the security forces and struck several retaliatory ones. After that, he ran back 200 meters and met with his friends, who were shocked by the damage inflicted on him. He soon returned home.

After a while, when Alexei was on his way to the hospital, they cut him off and threw a flash grenade under the car, started beating him and shot him in the chest at point-blank range three times from a traumatic pistol, knocked him to the ground and continued beating him with truncheons. After some time, he was taken to the local police department, and the next day he was taken to a pre-trial detention center in Zhodino. Alexei was in a bad physical condition: the tubular bone of the little finger was visible from a lacerated wound on his hand, his head throbbed and ached, blood was flowing from three bullet holes on his chest. There were hematomas on the body: one large near the heart, on the chest there were traces of rubber bullets.

After 8 days, Alexei was brought back to Molodechno, where investigative actions began against him. After several interrogations, the fighter was given an offer: he records a video where he apologizes to law enforcement officers, and for this he will be transferred under house arrest. Alexei agreed and began to go about his day-to-day business while awaiting trial. But on November 19, the day of the court hearing, he disappeared — he left the country so as not to end up in prison. After a while, a photo from Paris was published on his instagram.
In January, Alexei Kudin was detained in Moscow at the request of Belarus. His supporters immediately wrote a letter to the Prosecutor General's Office of the Russian Federation, the Russian Olympic Committee and the State Duma Committee on Sports with a request not to extradite Kudin to Belarus, explaining that his life and health in Belarus was in danger.


On June 25, the Moscow Regional Court ruled that the Belarusian fighter Alexei Kudin was not in danger in Belarus, so a decision was made to extradite him. The Belarusian world champion is charged with "Resistance to an employee of the internal affairs bodies" (Article 363 of the Criminal Code of Belarus). Alexei faces up to 5 years in prison. The court decided that in Belarus he was not threatened with torture, and the criminal prosecution was not politically motivated.

By the latest information his lawyers intend to launch an appeal at the European Court on Human Rights…